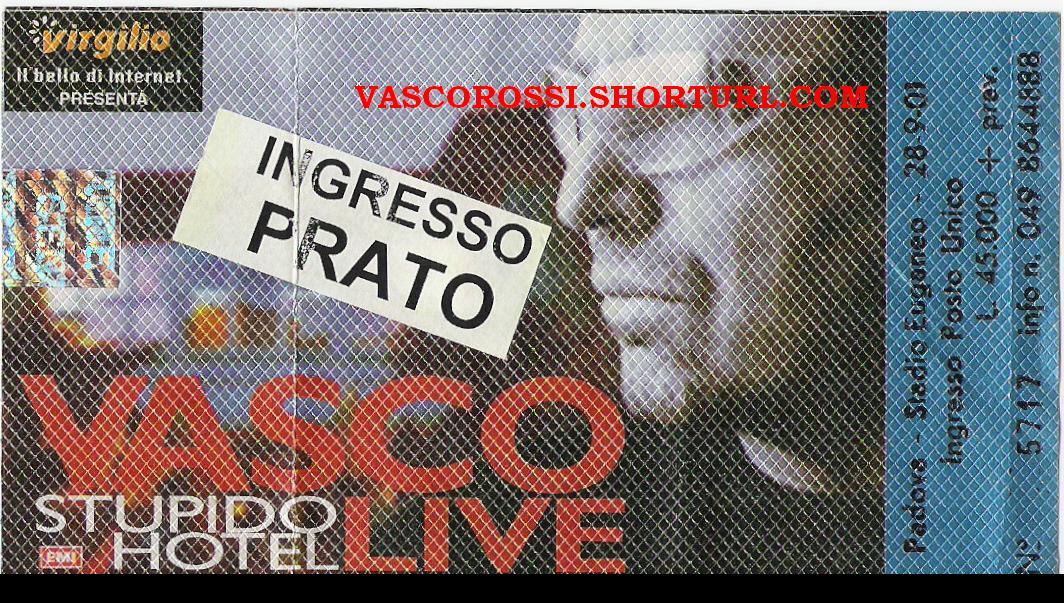 Concert note / Curiosita di concerto
The concert date was short after the 9.11 atack in the USA.
Therefor the concert started with a "C'e chi dice no" on the big flatscreen (and accompanied by the crowd) which can be considered as an protest against war
and terrorism. That made the atmosphere shivering!
This concert was the final concert of the stupido hotel tour.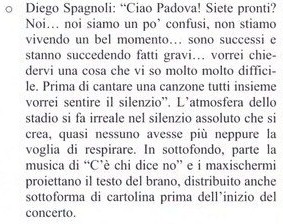 Source/fonte: "Vasco Rossi...e poi, voi" - Francesco Corbetta


CD Bootleg
Medium quality: recorded by a fan in the crowd.
CD 1 (74m22)
- C'e chi dice no
- Stendimi
- Quel vestito semplice
- Ieri ho sgozzato mio figlio
- Io ti accontento
- Stupendo
- Colpa d'Alfredo
- Sono ancora in coma
- Tu vuoi da me qualcosa
- La nostra relazione
- Canzone
- Standing ovation
- Ti prendo e ti porto via
- Perché non piangi per me
- Io no
- Siamo soli
CD2 (56m16)
- Sally
- Gli spari sopra
- Delusa
- Canzone generale
- Stupido hotel
- Bollicine
- Rewind
- Vivere
- Ridere di te
- Albachiara