Concert Note / / Curiosita concerto
Il concerto a Saronno (Va) è stato previsto il 17 giugno, ma è stato sostituito al 15 luglio.
The concert at Saronno (Va) was first planned on 17th June,
but was replaced to the 15th July.
Parole di Vasco/Words of Vasco: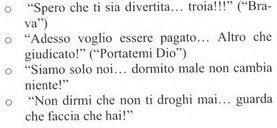 Source/fonte: "Vasco Rossi...e poi, voi" - Francesco Corbetta

Bootleg
The concert has been registrated and is available on bootleg. Quality of the registration is "medium".
CD 1 (45m33)
- Deviazioni (4m36)
- Mi piaci perche (3m02)
- Una splendida giornata (4m32)
- Jumpin' Jack Flash (2m27)
- Bollicine (4m46)
- Sono ancora in coma 2m34)
- Ogni volta (4m45)
- Una canzone per te (3m37)
- Brava (6m18)
- Portatemi dio (3m20)
- Siamo solo noi (5m34)
CD2 (39m27)
- Cocaine (2m32)
- Vita spericolata (5m26)
- Colpa d'Alfredo (5m16)
- Cosa ti fai (3m20)
- Asilo republic (1m45)
- Voglio andare al mare (5m01)
- Valium (3m30)
- Albachiara (5m23)
+ bonus track: interview (7m12)